On the day of launch, users will receive email invites to the platform with their login credentials.
The email will include a temporary password and a link to login to the platform. The email invite will look like the following: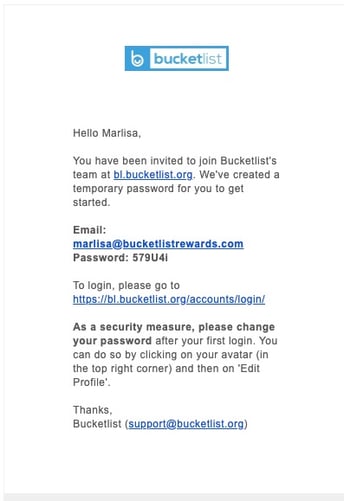 The email will be coming from support@bucketlist.org, to ensure that this email isn't missed or sent to your spam folder, see the following article on how to add Bucketlist emails to your whitelist: How to Prevent Bucketlist Rewards Emails from going to Spam
Once you get logged into the platform, we recommend changing your password to something more secure. To do this, head to the right hand corner of the platform and there will be a drop down menu where you can select 'Edit Profile'. Once you click into there, you can change your password, upload a profile photo, and add in a bio about yourself.
If you run into any issues with getting logged into the platform, you can email support@bucketlistrewards.com and someone will reach out to help you.