As an Admin at your company, there's various ways to fund your rewards float
What is a rewards float?


The rewards float is a sitting balance of funds that only gets touched when points are redeemed for rewards (Experiences, Gift Cards and Donations). As an Admin, you can see the balance of funds via the 'Account Balances' tab in Admin Settings. You can also generate a redemption report that notes:
What rewards were redeemed
Who redeemed (name, email, role, etc)
Monetary value of the reward (point and dollar value)
The redemption report is commonly used for financial reconciliation and taxation purposes.
How to fund your rewards float:


Depending on the location of your company, below are a few ways to fund your rewards float.
ACH (U.S. only)
Credit Card (3.5% processing fee)
International/domestic wire transfer
Cheque
Please contact us at Bucketlist at support@bucketlistrewards.com for instructions on how to fund your rewards float.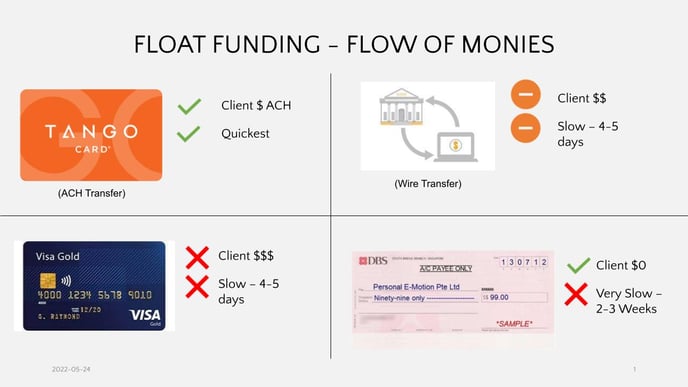 Send your check to the following address:
Physical Checks (USD) ATTN: Accounts Receivable Tango Card, Inc. PO Box 850862 Minneapolis, MN 55485-0862
Overnight Express Payments ATTN: Accounts Receivable Lockbox Services - #0310862 Tango Card, Inc. 1801 Parkview, Dr, 1st floor Shoreview, MN 55126
*To ensure a quicker processing time, write your account name and account number on the memo line. (You may request your Account Number from a Bucketlist Team member)
When remitting Canadian Dollar (CAD) payments to Tango Card Inc, please instruct the initiating bank to route the payment as follows:
Intermediary Bank: Bank of Montreal, Toronto
Intermediary Bank SWIFT BIC: BOFMCAM2XXX
Beneficiary's Bank: Wells Fargo Bank, N.A.
Beneficiary's Bank SWIFT BIC: WFBIUS6AXXX
(SWIFT Field 57a)
Beneficiary's Account Number: 3330000933
Beneficiary's Name: Tango Card, Inc.
Beneficiary's Address: 4700 42nd Avenue SW, Suite 430A
Seattle, WA 98116
USA
Note: The ABA/Routing number is not required for foreign currency wires.
Intermediary Bank is recommended if the sender's payment initiation platform supports it.
OUR: Remitter pays all fees.
SHA: Remitter pays initiating bank fees and first intermediary bank fees. Beneficiary pays any
additional fees.
BEN: Remitter pays initiating bank fees. Beneficiary pays first intermediary bank and any
additional fees.